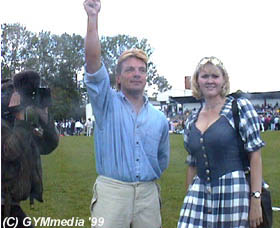 Pistol shoot for starting the 17th JAHN RACE in track and field, together with the newly elected 'Queen of Wine', Angelique Rößler.

"Mr. Hollywood..."
so bezeichnete bereits Ehefrau Kellee Ann (außen, re) ihren Gatten, der noch nie zuvor so im Rampenlicht von Medien stand.
---
Links: Startschuß zum Jahnlauf mit Freyburgs neuer Weinprinzessin Angelique Rößler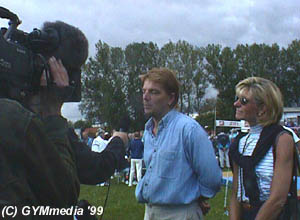 'Mr. Hollywood...', the wife Kellee Ann said now about her husband Ernest, because never before in his life he made so many interviews.
(All photographs:

HP Photo Smart C30)