25-Aug-2015: Erika ZUCHOLD died unexpectedly ...

Sources at her family became known that Erika Zuchold died surprisingly in Paraguay on Saturday, 22 August 2015:
* more on > www.gymmedia.de
WELCOME, With Optimism into every next Year ...


...one of one of my last sculpture: "WOMAN"
(Red serpentine)
(Photo: (c) Zuchold

All my friends of art, sports and specially artistic gymnastics worldwide I wish a healthfully and successfully YEAR 2012!

I was very impressed of the high quality of international artistic gymnastics at the
> 2008 Olympic Games in Beijing! and the last
> Worlds in Tokyo 2011.

Specially my admiration belongs the nonesuch uncomparable Oksana Chusovitina as a strong part of top class gymnast - inspite of her 36 years and her responsibility as mother of her son Alisher......!! A strong WOMAN!

>> ... look at my Gallery

---
20-May-2005: A big Event - and a big Honor for me...!

I was very passionately abot the big honor of the membership of the "International GYMNASTICS HALL of FAME", together with three other world stars of artistic gymnastics.
This event means for me, that it cannot be without importance, what we have done in the former GDR, specially in artistic gymnastics.
The gymnasts from there - first the women, later the men - were world top class and high performed...!
I have good remembrance, and I say now:
Many thanks to the board of IGHOF, for this greaz honor and for membership and the wonderful days in Oklahoma-City and Las Vegas...


-2005 in Oklahoma-City

---

<< here I signed
the pommel horse - together with the Swiss Daniel Baumat from Swiss Timing, long-time partner of F.I.G., next all the other 43 autographs of all the other world stars of artistic gymnastics ...

... I was very impressed!
02-May-2005: A very special Journey to USA...

I was very happy and surprised, when I got an invitation to the yearly induction ceremony of the "International Gymnastics HALL of FAME" in Oklahoma-City at the End of May...! Together with the former gymnast Svetlana Boginskaya (Belarus), the men with the first triple somersault on floor ('87), Valeri Lukin and the mehrfach numerously Olympic Champion Akinory Nakayama (JAP) I shall be also a member of this panel of honor next time...!

So I shall be the third German gymnast agreeing to a request this special honor, after Maxi Gnauck (2000) and Dr. Karin BŁttner-Janz (2003), my teammate in the GDR silverteam in Munich 1972.... E. Z.

---
01-May-2005: PRESENTATION AND SHOW PROGRAM AT THE IMOS CONGRESS


INTERNATIONAL MOTIVE GROUPS OLYMPIAD AND SPORTS

From May 5 to 8 will held the congress of the German section of "IMOS" in Leipzig.
There I will present some of my pictures, but also I will arrange a small program with some songs and as a stepper.
Also the Olympic Champion on vault (Munich 1972), Klaus Koeste (- he is living also in Leipzig) will be a special guest of honor at this congress... E. Z.

---


"I welcome all on my website
and I hope, you will find all news and information, you need...!"
(ERIKA ZUCHOLD)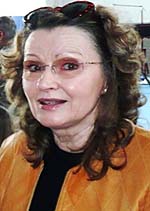 Erika Zuchold,
Leipzig, Germany
"... please, have a look
at my
>> GALLERY <<
there you can find all about my work as a painter and a sculptor...!